the world hates me. after making a rubbish joke about swine flu last week, the fates have decreed i need to be brought down a peg or two. i've been cursed with one of the worst colds i've had in years, fucking my sinuses around with a substance so viscous it may as well be Play Doh. but, even though i've only one functioning ear, i'm soldiering on with my top twenty records of 2009 so far. picking up where we left off...
10. The Sight Below -

Glider
Seattle, WA native
The Sight Below
's debut LP washes over you the first time you listen to it. the primary instrument being guitar filtered through delay pedal doesn't do much to hang on to yr brain, and it's only when it goes through second plays and third plays, that the whole record starts to make itself noticed. it's a delayed reaction of an album - the post-rock-on-valium guitar colludes with the the persistent 4/4 pulse (the latter lifted straight out of
Gas
' songbook, if he has one) that almost has an urgency to it, all adding to the ultimately relaxing slow release effect these songs have on yr senses. following in the footsteps of the new school atmospheric ambient artists like
Deaf Center
and
Belong
,
Glider
is a welcoming, dizzy swarm of sound - keeping all the secrets to itself until it knows you well enough to tell them.
9. Camera Obscura -

My Maudlin Career
returning in April with the best album of their (maudlin) career,
Camera Obscura
ditched all remaining traces of comparisons to
Belle & Sebastian
to fully embrace their triumphantly bookish chamber-pop side. some old trappings still remain, but ones that the band have expanded upon and hold up far better to repeat listens -
Phil Spector
,
Leonard Cohen
,
The Beach Boys
.
the first thing you'll notice on the opening one-two punch of "French Navy" and "The Sweetest Thing" is not only Tracyanne Campbell's inconcievably improved voice, but the sweeping string arrangments dominating the bridges and choruses. written by Björn Yttling (of
Peter Bjorn and John
), they're thoroughly indebted to the genius of
Scott Walker
, and are a delight for the ears of anyone who thought that
We Love Life
was
Pulp
's best album (i.e. me).
Camera Obscura
were a band i had all but written off after the thin-blooded flops of
Underachievers...
and
Let's Get Out...
- and i've never been more glad to be proved wrong.
8. Alva Noto -

Xerrox Vol. 2
minimalist composers and sound artists are not musicians that i pretend to know anything about - my familiarity with them is superficial at best. my appreciation for artists like
Aphex Twin
,
Sonic Youth
and
Fennesz
has led to me being recommended the works of
Steve Reich
and
Ryuichi Sakamoto
, but it never gets much deeper than that. the vast back catologue of these people has always warned off the casual listener, and as such i've always found it a bit impenetrable.
but then along comes Germany's
Carsten Nicolai
, with his second instalment in the
Xerrox
series. Sampling from external sources like
Stephen O'Malley
and
Michael Nyman
, he's sonically bridging that gap between the innovative techno and the avant-garde composers they owe to by reworking these human motifs into a cushioned symphony of telephonic noise - he gives electricity such a personality that you won't be sure if the background popping and hissing is being made by a fax machine or a campfire.
Xerrox Vol. 2
seems to unvravel and reveal itself more with each repeated listen, and i can only imagine it moving up in my estimations by the year's end.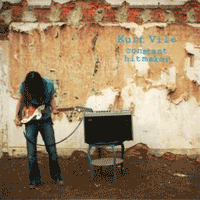 7. Kurt Vile -

Constant Hitmaker/God Is Saying This to You
being a member of one the band that produced one my very favourite LPs of last year (that's
The War on Drugs
'
Wagonwheel Blues
),
Vile
was pretty much a shoo-in for '09 from the moment i heard his gliding country guitar again on the killer opener "Freeway". these two albums bear much the same boy scout badges that
The War on Drugs
do -
Dylan
-style vocal inflections, an almost unhealthy obsession with
Springsteen
, and a predilection to making noise that veers between
Devendra Banhart
's acoustic wisdom and a
My Bloody Valentine
sized racket. but he's not done yet - Matador have picked him up and plan to give his third record (named
Childish Prodigy
) the commercial release treatment in autumn, so expect to see the man recieving more rave reviews from me before the year's through.
when placed alongside the
Lotus Plaza
and
Sore Eros
debuts (the latter described as "cosmic country" in
part 1
- coincidentally, there's a track on
God...
named "Beach on the Moon"), these albums make a strong case for dream pop as a genre in rude and beautiful health in 2009.
6. The Phantom Band -

Checkmate Savage
the fifty-four minutes and fifty-four seconds of
Checkmate Savage
, the Glasgow sextet's debut album, is pure self indulgence, in the best possible way. in a way that's so self assured and canny, they've arrived with a set of songs that sound like the work of several albums worth of file grinding and skill honing. either that or years of listening to nothing but
Neu!
,
Can
,
The Beta Band
, and
The Doors
. on key tracks like "Throwing Bones", "The Howling", and the
Magic Band
-via-
Arcade Fire
of "Burial Sounds", they have no qualms with sticking a folk'y motorik (motofolk?) arrangement on repeat until it falls aparts at the seams and all that's left is the psychedelic guitars or incredible vocal work, ranging from barbershop melodies to monk cantillations.
not only have they released one of the year's best albums, but
The Phantom Band
also put on the best live show i've seen all year at Glasgow's Art School. despite quite a sparse attendance, they played like they were headlining an outdoor festival stage. everything was perfectly mixed down, and they seemed to exchange a quiet telepathy that comes with constant touring - each member knowing exactly when to put down their guitar and pick up the frog block without so much as a nod from a bandmate. i forsee only great things for these six Scottish songmongers.
5. Lotus Plaza -

The Floodlight Collective
the announcement of a solo effort from
Deerhunter
's lead guitarist Lockett Pundt was not met with rabid anticipation from me, despite the band's 2007 LP,
Cryptograms
, being my favourite released that year. since that album they've only gone downhill, each successive release failing to recapture that mad indulgent brilliance that made them so fascinating when all that was being played was a guitar through a loop pedal. it came as a great surprise (and joy) then, that
The Floodlight Collective
is actually the closest any
Deerhunter
member has gotten to lighting that fire.
the word "light" is important here, as that is what the album appears to have been inspired by, inside and out. from fond childhood memories to celestial eclipses, from photography to luminous pollution, this record exudes light from every corner. noise haze washes over a techno pulse on "Sunday Night", affecting vocals ride high on a Motown beat on "Quicksand", and kiwi indie-pop collides with
Yo La Tengo
clamor on "What Grows?". it's the auditory equivelant of a confusingly multicolour'd Franz Kline painting left out in the sun, revealing its strengths and conceding its flaws as it plays - and by the time the epiliptic outro to "A Threaded Needle" calms down, you'll want to play it from the beginning again.
4. The Field -

Yesterday and Today
it was always going to be hard to top
The Field
's incredible 2007 LP,
From Here We Go Sublime
, so it's no surprise that
Yesterday and Today
just falls short. but only just.
Kompakt hyped up Axel Willner's second album as "more organic than its predecessor" - and they are not wrong.
From Here We Go Sublime
was fashioned from bits and pieces of clipped and atomised but still recognisable parts from
Kate Bush
,
Lionel Richie
and
Coldplay
to create whole new songs -
Yesterday
seems to all but abandon this process. indeed, the only sampled material here is from the Korgis' "Everybody's Got to Learn Sometime", but the use of the original track title asserts that this is a proper cover rather than a chopped-up reappropriation.
he's not thrown out the old template entirely though - any occasional listener would be able to identify these as
Field
songs; that throbbing persistent beat and the live mixing always creating a build-up of trance anthem proportions. but the charm behind
Yesterday
seems to be Axel letting his natural songwriter side out to play, embracing a
New Order
style bassline on "Leave It", implementing full vocal takes on "Everybody's Got to Learn Sometime", and even letting
Battles
' John Stanier bolster the percussion with his own set of skins on the title track. what remains to be seen is if he can find the perfect balance between his winning formula of minimal techno and songwriter ambitions to satisfy both his fans and himself. i have every faith in
The Field
.
3. Dirty Projectors -

Bitte Orca
trying their hand at everything from classic suites to Black Flag covers, David Longstreth's art rock outfit have always had a classic case of band ADHD - one that's treated with blue smarties instead of ritalin. they skip and dodge the catch-all nets of "indie" and "rock" so often with each album, it's a waste of time even trying to describe their attitude to music here. even the name "art rock" is a massive misnomer in this case, it only felt appropriate because of the bands the Projectors find themselves aligned with -
Talking Heads
,
Battles
,
Grizzly Bear
- part of the NYC camp of the avant-garde, creating indefinable pop for the underground masses.
but, try as they might, never before have
Dirty Projectors
sounded so focused and cohesive than on
Bitte Orca
. they still curb from a wide and ever-eclectic range of sources -
Björk
's vocal gymnastics,
Scritti Politti
's erratic post-punk, and fuse it at the spine with
Nico
(whose version of "These Days" is liberally borrowed from on "Two Doves") and radio friendly hip-hop like
TLC
and
Aaliyah
(which provides the foundation for standout track "Stillness Is the Move"). they're still as peculiar as ever - too peculiar for some no doubt - but they've gone some of the way to make their distinct pop character palatable to people besides themselves, with a career conquering album.
2. Fever Ray -

Fever Ray
beginning with the tense, low rumble and Karin's uniquely pitch-shifted "is-it-a-boy-or-a-girl?" vocals on "If I Had a Heart", fans of
The Knife
will love this record from the off. not only does it keep similar musical notions intact, it reinforces
The Knife
's strategy of diminished identity and confused gender - and in keeping with the aesthetics, employs a cover artist whose work bears more than a passing resemblance to
Black Hole
author Charles Burns, the primary inspiration for incredible 2006 LP
Silent Shout
.
it's after that first track though, that the similarities start to taper off. personal favourite "When I Grow Up" embraces an array of previously untested ground for Andersson, like unobscured vocals, big beat breaks, and an electroclash riff that pops up quarterway through. the lightsome "Seven" could find a happy cousin in 2003 single "Pass This On", though it seems to take a more 80's tempered,
Miami Vice
-on-VHS spin by the time the chorus kicks in.
the overall anthemic quality to the albums "big" sound reminds one of more personal, domesticated takes on
Underworld
's
dubnobasswithmyheadman
and
Kate Bush
's
Hounds of Love
. but more importantly, even though she's talking to us about dishwasher tablets and her children, she never loses that cryptic quality that makes her and her brother's albums as special as they are.
1. Animal Collective -

Merriweather Post Pavilion
the first hype juggernaut of 2009 to blow everyone and their parents' (with great taste in music) socks off arrived in January in the form of Baltimore-via-NYC trio/quartet's eighth album. it was written and recorded with the intention of capturing the spirit of live, "outside" music, and it pours into your ears like teenage memories of summer fun recalled in 1020p HD resolution.
nowhere is this more prevalent than on one of the singles released from the album, "Summertime Clothes". Avey Tare details a perfect twenty-four hours of sun enjoyed with a friend like only his Wayne Coyne'ish shriek can, peaking with a manic chant of "When the sun goes down we'll go out again!!" it's not all beers at the beach though, another recurring theme (most frequently indulged by Panda Bear on "My Girls" and "Daily Routine") is loving homelife with the wife and kids. but where
Fever Ray
's Karin Dreijer Andersson made these activities sound like paranoid witchcraft, Noah Lennox makes it sound like the most fun in the world. all these songs are carefully stitched into the beautiful patchwork of
Animal Collective
's best technicolour dreamcoat, the wonderful
Merriweather Post Pavilion
.
i've been keeping up with some of the songs collected here since 2007 (that's
ages ago
by
AC
standards), but it's still an album that's always as fresh as your latest listen - i've never anticipated an LP so greatly and been so 110% satisfied with the end results. this is a mellow, catchy, happy, beautiful summer's day of a record.
remember that Bill Hicks joke about the perfect world? everyone is legally required to smoke weed so there'd be no traffic jams, fights or wars - just everyone being friendly to one another, and Domino's trucks passing each other on the highway. well if everyone was legally required to own
Merriweather Post Pavilion
, there would be no need for weed.
so that's it! all that remains is to enjoy the next six months of records, which i'll no doubt be tirelessly cataloging by December so i can write a whole 'nother one of these bad boys. if you've read this far - check out the mix below, and make sure that if you dig a song you hear, support the band by going to a gig or buying a record.
tracklisting:
1. the sight below - at first touch
2. camera obscura - my maudlin career
3. alva noto - xerrox soma
4. kurt vile - best love
5. the phantom band - folk song oblivion
6. lotus plaza - whiteout
7. the field - yesterday and today
8. dirty projectors - no intention
9. fever ray - now's the only time i know
10. animal collective - lion in a coma
download via MediaFire